Texas Radio Live: Tennessee Stiffs
April 27, 2022 @ 7:00 pm
$10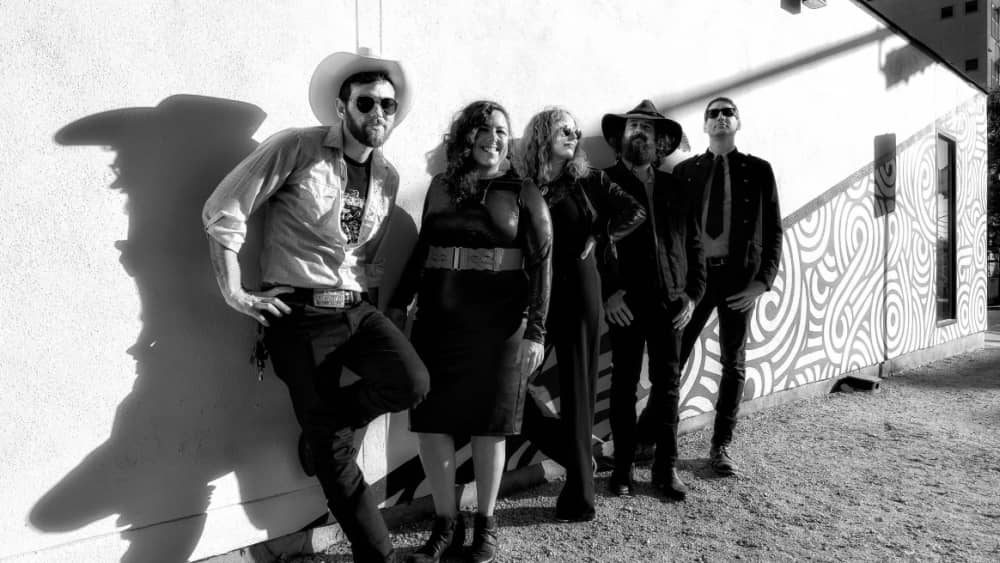 We're not from Tennessee.
A little bit rock 'n' roll, a little bit country, and a whole lotta rowdy make up Tennessee Stiffs.
Formed in late 2011 and fueled by their eclectic musical interests, co-founders-turned-married-couple Ethan Lee and Cara B were determined to create something never heard before.
They seamlessly blend Americana, blues, rock, folk, country, and a myriad of other influences into a powerful and provocative avenue of true grit americana.
something dark, something pretty,
something great, something gritty.
Late night writing sessions soaked in whiskey gave the group a sound all their own. Cara's melodies range from hauntingly beautiful to wildly soulful. Blended with Lee's foot-stomping rhythms and gravelly vocals, the two take the "Beauty and the Beast" standard to heart.
In the beginning, the duo spent their time writing tunes and performing intimate shows, often using old books and a hat containing lines of poetry as inspiration. They wanted to build each song as its own story in a greater collection of real-life events. Each song's characters are vividly constructed and personal, allowing for the listener to relate.
After recording the debut album, "Nightery," in April 2015, the Stiffs garnered attention from all over the United States, getting airplay from coast to coast as well as Europe, hit with live podcasts and music blogs. The Akademia Music Awards gave "Nightery" the Best Americana Album Award, as well as the Editors Top Pick of 2015. Keeping up the momentum, the Stiffs toured the nation in 2018 and 2019 promoting the sophomore album, "Thirty Pieces." distributed through Sony's The Orchard, it created waves propelling them to perform at the likes of wildwood festival and salem arts festival in oregon, taos mesa mothership in new mexico, featured on several podcasts and live radio premieres in nashville and knoxville TN.
The Stiffs released a special quarantine ep called "Raise the Tide" in late 2020 and are currently awaiting the spring release of the highly anticipated third album, a concept collection called "Dearly Departed". release may 2022, pre-order available january 2022.
"- A haunted roadhouse where forlorn country, barstool blues and 1970s hard rock hold sway. Husband and wife team Ethan Lee and Cara B. Sadler lay on the spaghetti-western guitars and world-weary vocals with a trowel. It's creepy cool and as southern gothic as Spanish moss, a crumbling mansion and an eerie cry in the dead of night."
– creative loafing charlotte
"Tennessee Stiffs' grit, attitude, and red dirt edge make for an energizing blend of Americana. Forget boot-stomping music, their sound makes you want to dig your toe nails into the soil. The harmonies echo and the fiddle wails with reverberating emotion. It's a rich, southern, and dangerous type of folk music that you'll immediately sink your teeth into."
– Elisa Regulski, Tour Worthy – Austin on Shuffle
"The term "achingly beautiful" was coined just to describe this band."
– the ripple effect
"Powerful vocals, stunning guitar work and unforgettable melodic hooks dominate Tennessee Stiffs' new album, representing a major contribution to the Americana genre."
-the akademia
TENNESSEE STIFFS ARE:
 Vocals, Mandolin – Cara Jane Sadler
Vocals, Guitar – Ethan Lee Sadler
violin, vocals – sarah millenary
Bass, Vocals – Casey Kuznieski
Drums, Vocals – Adrian Voorhies
Related Events